CheapLog
Friday, January 28, 2005
Mommy hottest

---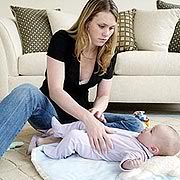 Irene Slatest, 41, has been wearing basically the same uniform since her 20s: "I'm all about the low-cut (tops), the 3-inch heels, the tight clothes."
But as she fixed breakfast one morning at home in suburban Long Beach, N.Y., her daughter, Victoria, noticed something amiss. Hair, makeup and form-fitting outfit intact and impeccable, Slatest nonetheless stood at the stove in ... fuzzy slippers.
"Mom, you look like a housewife!" Slatest recalls her 7-year-old exclaiming.
"I was like, 'Oh, my God, we can't have this,' " Slatest says.
So she finished making eggs in heels.