CheapLog
Saturday, April 16, 2005
Save Jordan's giant jugs

---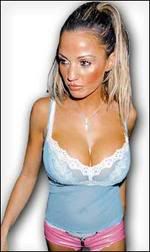 TODAY The Sun launches a campaign to save two of Britain's most outstanding monuments — Jordan's boobs.
Yesterday the model revealed she wants to have surgery to reduce the much-loved landmarks. It left many upset the national treasures will be lost for ever. Often open to the public, the silicon edifices have become one of Britain's biggest attractions. But Jordan — who boosted her original 32B assets to 32FF — now says they are "a little big."
Last night the National Trust reluctantly insisted they would be unable to step in to preserve the massive monuments. Spokesman Julian Lloyd said: "Our remit is to preserve places of outstanding natural beauty – so we will have to pass on this." Now it's up to readers to Save Jordan's Giant Jugs – so e-mail your support today.